SEO Backlink Checker
SEO Backlink Checker is a simple and very handy freeware backlink checker. It helps webmasters to monitor incoming backlinks to their sites. This easy-in-use program with user friendly interface analyzes sites for any incoming links to your site and inform about results.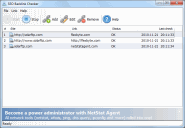 The number of links is one indication of the popularity or importance of that website or page. That's why many webmasters are using link exchange method to promote their sites in the Internet.
SEO Backlink Checker displays the list of sites to be analyzed, incoming backlinks, status and the time of last check.
All you need to start monitoring is to enter the website address or page that hosts the link as well as link URL, which must be found. If the desired URL is found on the site then the opposite site status will be set to OK. The program monitors each site with a specified frequency, which can always be changed in settings.